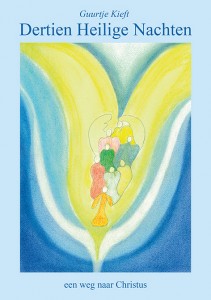 Third printing, 2013
The days between Christmas and Epiphany, the period of the thirteen Holy Nights, are an excellent time for contemplation, and for working on developing our consciousness. What started years ago as a simple photocopy of Guurtje's handwritten booklet has now been revised and expanded into a bound book.
The book offers thirteen exercises for thirteen Holy Nights: for meditation, focusing awareness, bringing out your artistic side and training your senses. Guurtje has  developed all of these exercises and is passing them on to you, as to help you develop your own consciousness.
The book also dwells on the significance of the two Jesus children for the spiritual paths of people on Earth.
This new edition adds a chapter with special exercises for children during the thirteen Holy Nights.
Available in Dutch only
Order code: D.H.N.  (Out of stock)
Measures: 217 x 152 mm
Number of pages: 52
Price: € 13,50 (plus postage)